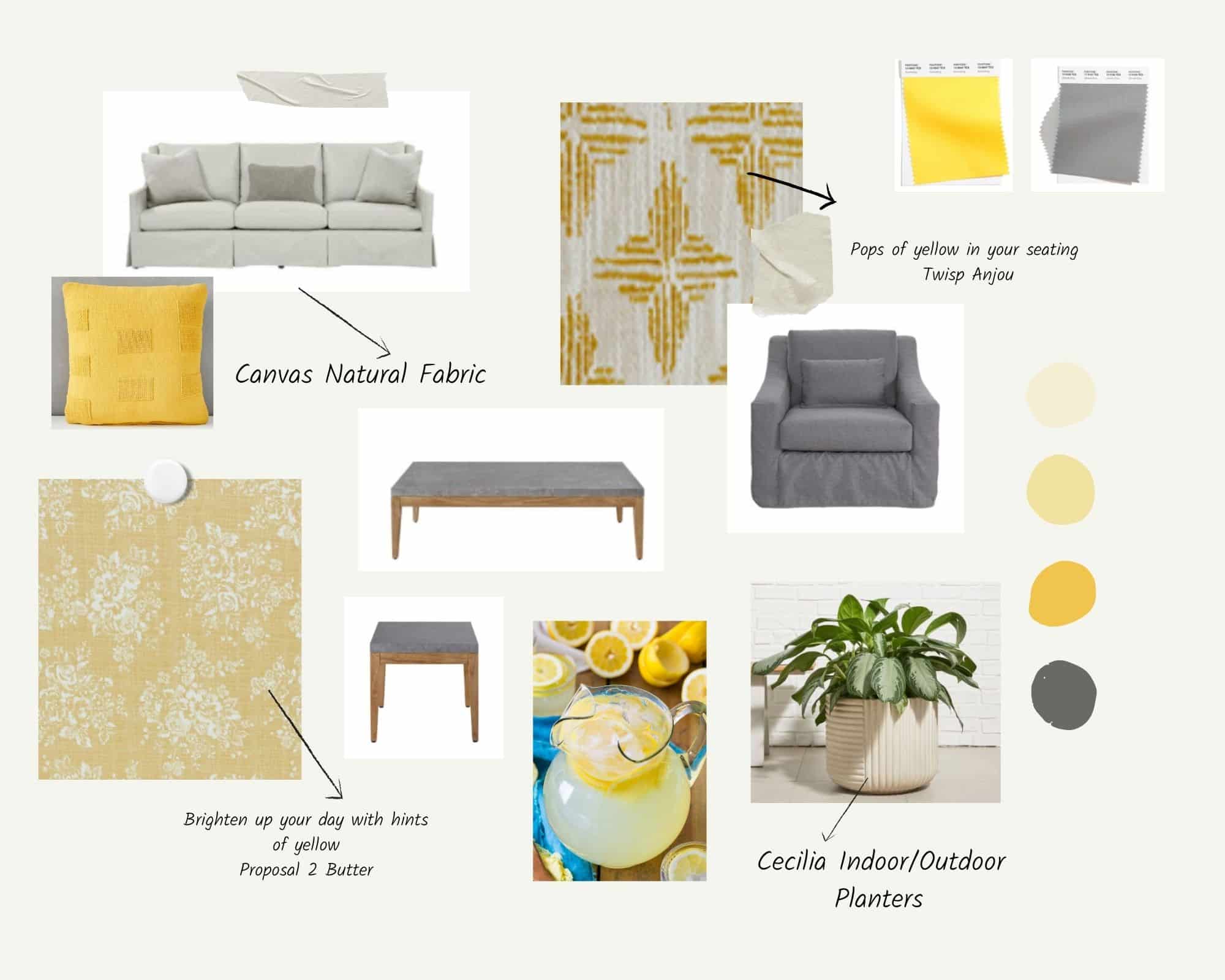 5 Tips To Get Your Home Ready For Summer
Memorial Day weekend just ended and you know what that means; it is officially the start of summer! It is time to open your windows, set up your sunroom and host dinner on your back patio. But first, we need to get out of hibernation and enhance our space. The most crucial spaces for summer living are porches, sunrooms, patios and outdoor kitchens. But how do we transition these spaces into the new season?
First, to freshen up your porch or sunroom a huge impact would be to incorporate new outdoor fabric. Adding pops of color and interesting patterns can really transform your space and open the door to a new season. To start this project you should pick a color scheme, but let's be honest, choosing a color scheme can be overwhelming. There are so many options and variations. The Pantone Color Institute announced that the color of the year is PANTONE 17-5104 Ultimate Grey and PANTONE 13-0647 Illuminating. I think it could be really fun to use these colors together this season, so I would suggest using Illuminating as an accent and Ultimate grey as your main color. That gives you a lot of area to play with patterns and prevent the space from becoming too busy or overwhelming. Cath Kidston's indoor fabric line with Stout is one of my go-to's for spring and summer. She has a beautiful selection of florals, colors and patterns. In this color scheme I would incorporate Proposal 2 Butter in the drapery for your sunroom. For your furniture I would suggest a light, neutral sofa like the Hudson Sofa 93" from Coastal Living Outdoor in the Canvas Natural Outdoor Fabric. It provides great seating for hosting cocktail parties or lounging with a book on a hot summer afternoon. I would pair that with the Brooke Chair from Coastal Living Outdoor in the Twist Anjou Fabric. This fabric adds a pop of interest to the space in contrast to the solid couch fabric. The Chesapeake Cocktail Table and End Tables, with the wood finish, keep the space warm and inviting while incorporating the Ultimate Grey into your space. The smooth grey stone top is great for easy clean up as well. To finish off your space grab some throw pillows and a few plants, make a batch of lemonade and enjoy your new space!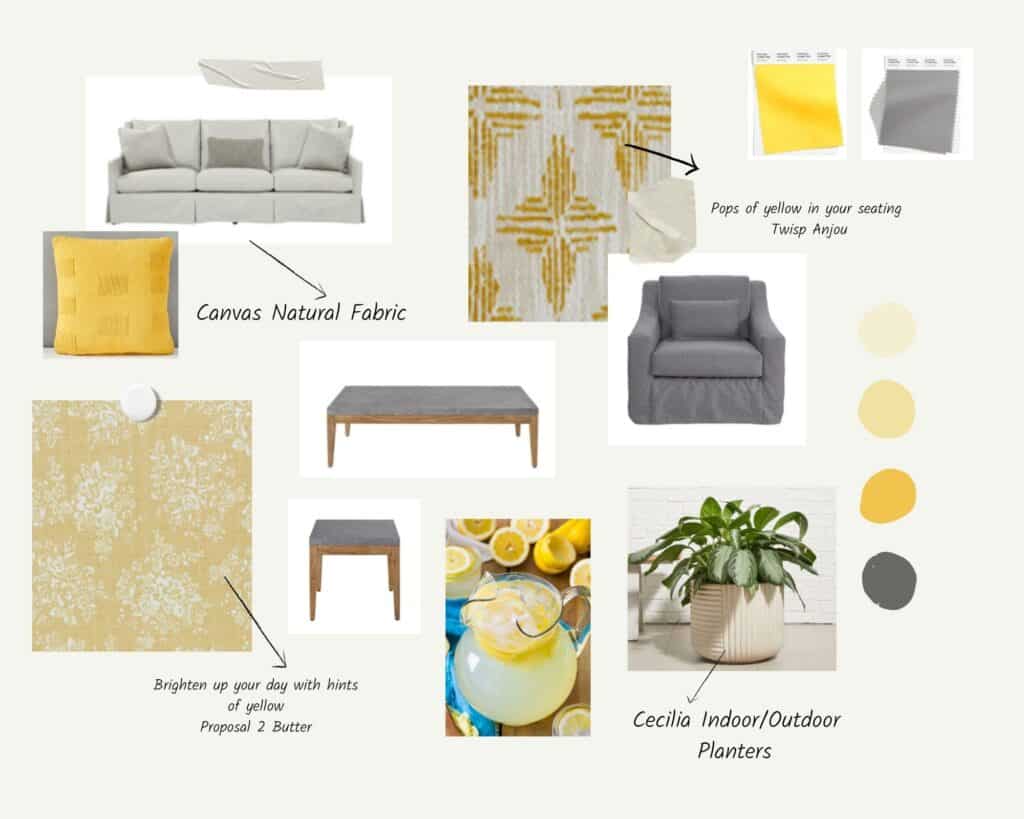 Your outdoor dining space should be something you are excited to eat at every day and have friends over on the weekends. But how can we make it a space that's casual but also formal at the same time to accommodate all types of occasions. The Spring color palette from Pantone is a great place to get inspiration for color schemes. A classic color scheme will embrace a coastal feel in this space by incorporating French Blue (PANTONE 18-4140) and Cerulean (PANTONE 15-4020), along with some white and natural wood accents. The Tybee Rectangle Dining Table is a great start to your outdoor set. It is aluminum, which allows for easy clean up from meals, or a quick dust off of pollen. It also allows for an umbrella, and in this case I chose the Napoli Parasol with Telescopic Pole. To compliment the dining table, the Chesapeake Arm Chairs with their wood framing warms up the dining set. For placemats I love Perennials' Left Bank Stripe in Capri 873-719. The hint of orange in the stripes complements the color scheme, adds a hint of warmth and makes it pop. To layer your dinner set, Jonathan Adler has a Big Sur Collection in white that is perfect for outdoor dining. I also love Jill Rosenwald's work, especially her Café Au Lait in Blues options. There is a great variation of patterns and blues which would be perfect in this scheme. With the unique pattern combination of the bowls and the placemats, I would opt for a more subtle napkin selection like the Herringbone Napkin in White, Seafoam and Gold by Kim Seybert. Pottery Barn's On the Rocks Drinkware Collection has Goblets, Drinking Glasses, and a Pitcher that would be the perfect set for hosting. The best part, they're acrylic! Don't forget an area rug to tie it all together. For this set I like the Alana Linen Sisel Rug. Hang up some string lights to add some intimacy to the space. Between the color usage, natural elements and use of patterns you have the perfect end product of a traditional coastal patio setting.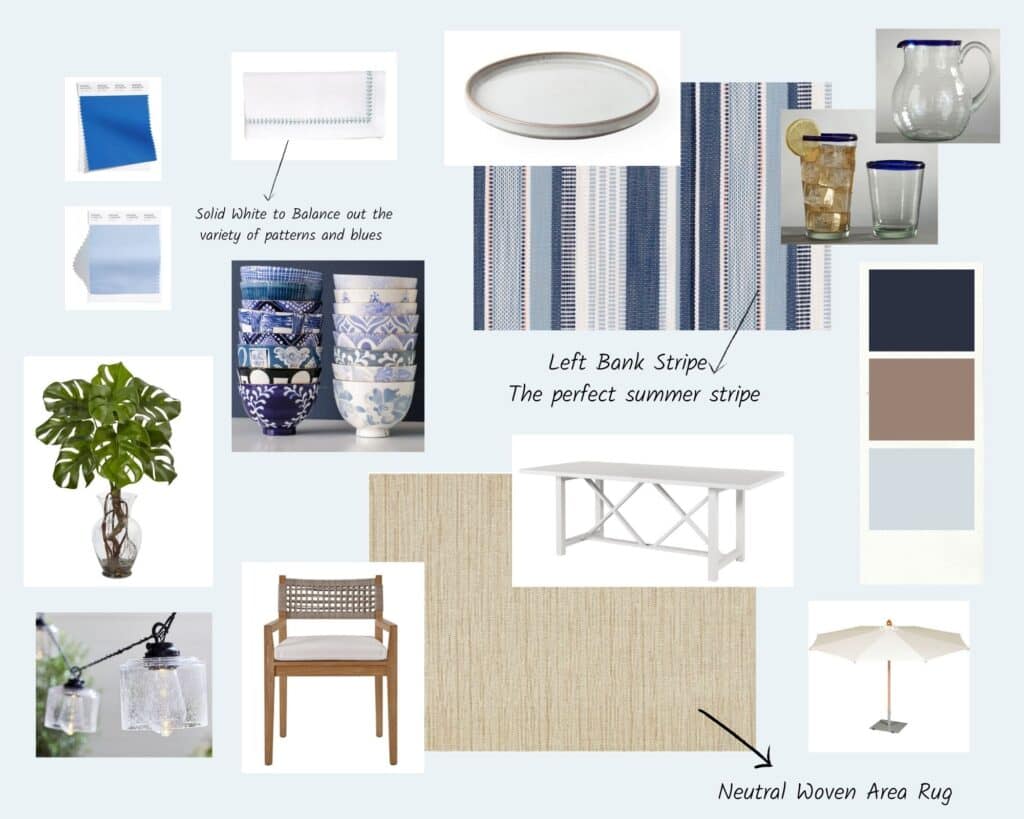 Now, it is grilling season and a must have is the Big Green Egg. They have sizes for all of your summer needs from tailgating and picnics to catering your parties! But for an outdoor kitchen we're going to need some bigger appliances. Starting with an island, LYNX has a Ready to Finish Island that can be customized to match your home and personal lifestyle. It is also configurable to the size of your gas grill. LYNX also carries everything from sinks and cocktail stations, storage, ventilation and grills. A built in grill is a necessity for your outdoor kitchen. Endless possibilities for cooking can be done on the grill which is perfect for warm weather. Another fun appliance to incorporate into your outdoor kitchen is the Countertop Artisan Fire Pizza Oven from KALAMAZOO. What is better than your whole family making pizza together while enjoying the outdoors? Another fun option is a Built-In Smoker Cabinet which is perfect for your rib and brisket lovers. 4th of July is going to come sooner than you know, and these appliances will get you ready to relax and enjoy some good food, friends and fireworks.
If you don't have the space for an outdoor patio and kitchen, or don't have the perfect space to dedicate as a sunroom you can still freshen up your home for summer with accessories. Starting with your main bedroom, Kevin O'brien, based right here in Philadelphia, has some great comforter options that are perfect for summer nights. I like his Hand Stitched Cotton Blend Coverlet, the Chunky Weave Cotton Coverlet because they are lightweight and cool for a hot summer night. The Double Tux Linen Duvet Set is perfect for someone who likes to mix things up throughout the seasons because the covers are always interchangeable. Laura Parks has some fun indoor pillow options like her Flower Child Marigold Pillow and Miss Ella Teal Pillow. These will add a pop of color and pattern to your bedroom. Johanna Howard Home has some great throw blanket options, the Cozi Throw is perfectly soft and lightweight with a variety of color selections to match any room. When it comes to décor, take a step out of your comfort zone. That's what really takes your space to the next level. The Ash wall sculpture is a great interest piece for your hallway because natural wood finish brings the outdoors inside your home. The Atalia mirrored boxes are a bold focal point to incorporate into your living room. Hide your remotes in these shabby-chic boxes. For your bathroom, your vanity may benefit from the Geller tray, creating a designated place for jewelry and small accessory pieces. A fun accent piece for your kitchen would be the emerald green Fran vase, a timeless color adding a modern yet classic look. Mirrors aren't made just for bathrooms and bedrooms, they can also make interesting décor pieces in living rooms and dining rooms. Jonah mirror and Mahault are both unique and statement pieces, but will not clash with the rest of your décor.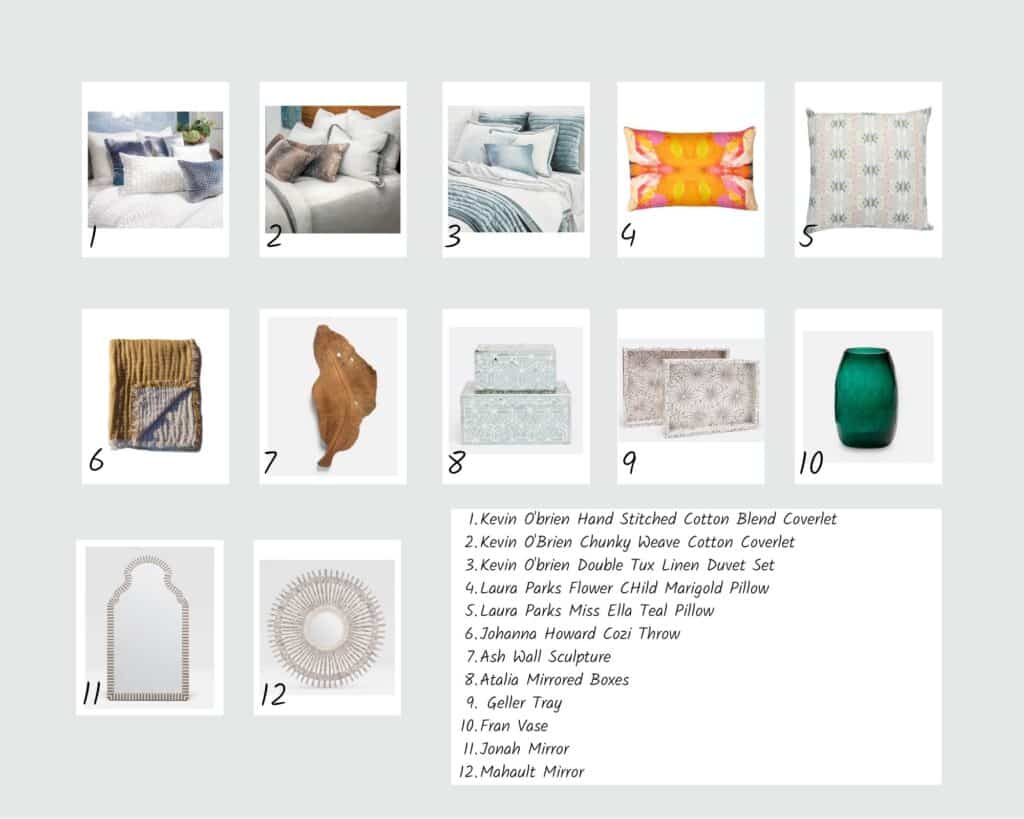 These are just a few of my favorite companies and pieces to incorporate into projects this season. The possibilities are endless! If you are looking for help or want any advice feel free to give me a call, I would be happy to get your space summer ready!